At Bowhill & Elliott we are incredibly proud of the quality products we make. Especially the hand embroidered slippers and house shoes we manufacture.
A huge amount of time and hand made expertise go into our hand embroidered slippers.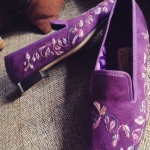 Don't hesitate to get in touch if you see a hand embroidered design that you would like on your slippers, or alternatively we will work with you to make something truly individual.