Our histories are woven together inextricably by craft, by the footwear industry, by the tropes of being a family business, and perhaps most importantly, by people. Yes, we're proud to say it's something of a 'special relationship' between us here at Bowhill & Elliott and Northampton's most famous footwear manufacturer, Crockett & Jones. But what does that mean beyond us getting together and chewing the fat over the trials, tribulations and triumphs of our industry sometimes? It means that we have something new to tempt you with, exclusive to Bowhill & Elliott.
Followers of Crockett & Jones will be more than familiar with the Alex, a style now synonymous with the James Bond films. We're fizzing with excitement to tell you that we've given the Alex a Norfolk makeover, with our debut C&J exclusive now available in brown suede.
Bowhill & Elliott have long been fans of whole-cut shoes, with all our velvet slippers made from one single pattern cut, so it was natural that we turned our attention to the Alex.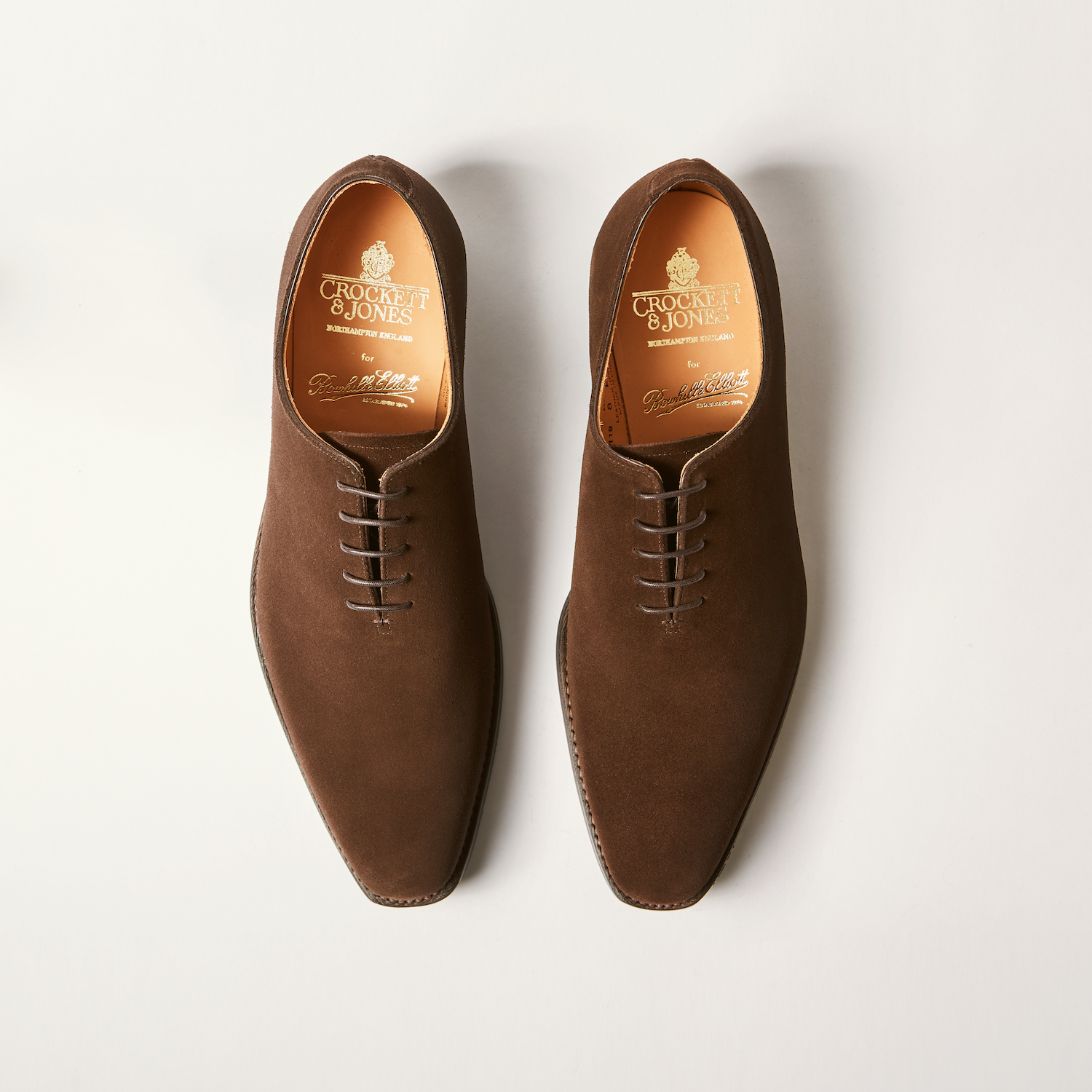 Lovers of texture with unrivalled quality, we were always going to opt for a suede upper, and who better than the English tannery Charles F Stead to deliver. It's still a common myth that you can't wear suede in the rain, when in reality caring for suede is a far less arduous task than polishing leather; just the occasional spray and brush and you're ready to take on all that Blightly weather has to throw at you.
Again, with the full gamut of weather conditions to contend with, we commissioned the Alex with Crockett & Jones' exceptional 'City' rubber sole. Maintaining all the elegance of a leather sole, without the weight of Dainite, it is the perfect sole unit for city wear, come rain or shine.
They are, of course, Goodyear welted to allow for multiple refurbishments at the Crockett & Jones factory, with five blind eyelets and Oxford closed lacing, making the Alex Brown Suede a must-have for the gentleman who knows how to dress down in style.
Initially made as a 12-pair MTO for Bowhill & Elliott, this is not one for the masses. If your size is unavailable please make contact and we can add you to the list should we re-order.