In the picturesque university city of Maastricht sits Shoes & Shirts, purveyors of the finest – would you guess – shoes and shirts. Match these with the boutique selection of accessories on show and you have an outfitter adored by gents of fine taste. A second-generation family business, Shoes & Shirts' relationship with Bowhill & Elliott began in the 1990s and as trends have waxed and waned, they have been great supporters of Bowhill's timeless offering. 
In the first of our interviews with stockists, we caught up with Véronique, who runs the shop with her husband Jules, son of Shoes & Shirts' founder, as we're about to read on…
Véronique, I wondered if you could give me a little bit of the history, in your own words, of Shoes & Shirts?
Well, where should I start? We are a family-run business and the store is founded by Peter van den Eertwegh, who is the father of Jules, my husband. Jules and I are running the store together for several years now with a very nice and dedicated team. We've existed since 1988, and what we do is that we work with the most high-level shoes being made from England to Italy, to France to America. And so of course a specialist such as Bowhill & Elliott should also be in our collection. We've been working with Bowhill for 30 years now, I think.
I noticed on your Instagram it says, "our love of handmade shoes runs in our DNA." Is that because you're a family business?
Yes, well Jules is already the fifth generation working in shoes; the second generation in the shop but there is a history of shoemaking in the family for five generations already. So actually the shoemaking itself as well. Two generations in the shop, but before that, a long history of shoemaking and shoe repair.
And it really does run in the DNA; look at our son: he only turned seven this Saturday but he already has an eye. If he looks at the street and sees people walking he looks at their feet and the shoes they're wearing. If you would ask him the process of how a Goodyear welted shoe is being made he can explain! He's visited the factories and now he has this visual mind; he just knows by seeing it.
Our daughter of five is more of the "marketing" who tells everyone where they can buy good quality shoes, from a ballet class teacher to people we meet during our holidays.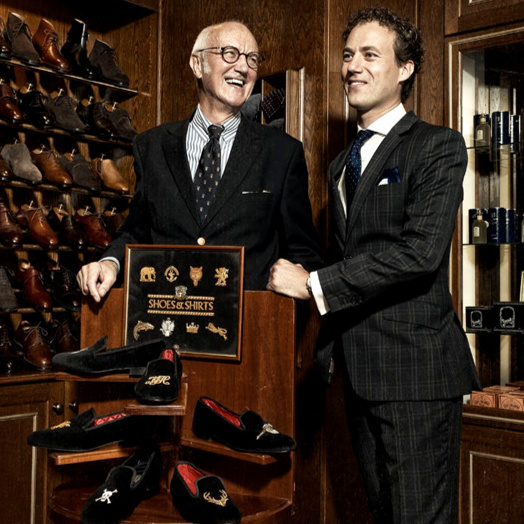 Peter van den Eertwegh and his son Jules. Jules now runs the shop with his wife, Véronique.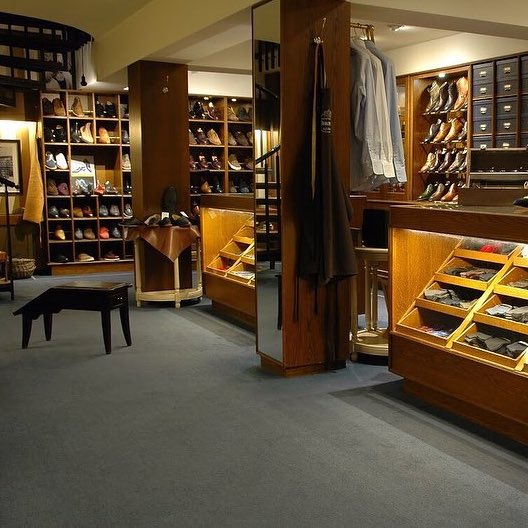 Shoes & Shirts' famed 'shoe cellar', a must-see for any shoe aficionado making the pilgrimage to Maastricht. 
I don't know anything about Maastricht myself, but I wondered whether it has a history of shoemaking, like Norwich?
No, not shoemaking but Jules' surname, van den Eertweghs comes from the shoemaking district. Maastricht is very well known for – actually, the area where our shop is located, Stokstraat Quarter is where all the shops are located with the highest standards of quality and specialised makers, high-end fashion and small jewellery stores. There are art stores, antique stores – so really, the people with fine good taste come to the area where our shop is located.
Has the retail landscape changed for you over the years or has there always been an appetite for fine tailoring in your area?
It has already been this way for many, many years. And another strength of the city of Maastricht is that we have a very high concentration of Michelin star restaurants, meaning that people plan a trip to Maastricht. Our main neighbours are Belgium and Germany, both within a 10-minute drive. So we are very international; we speak all languages – German, French, Dutch, those languages we speak in-store. Our customers come from several regions. But everyone travels to Maastricht because it has good jobs and good restaurants.
If you don't mind us talking a little bit about ourselves, what is it that attracts you to Bowhill & Elliott, as a brand? How do we make the grade to be stocked in your lovely store?
Well, I think that for Bowhill, you are a specialist as well. You're a family business as well. When a gentleman in-store is looking for a good house shoe, the only one that we would like to work with is Bowhill & Elliott, because the original velvet house shoes come from Bowhill. We believe in specialists; we don't believe in people that follow trends that think, 'oh right now it's good to make velvet shoes' and then in five years' time it's out of trend. And it's quality as standard.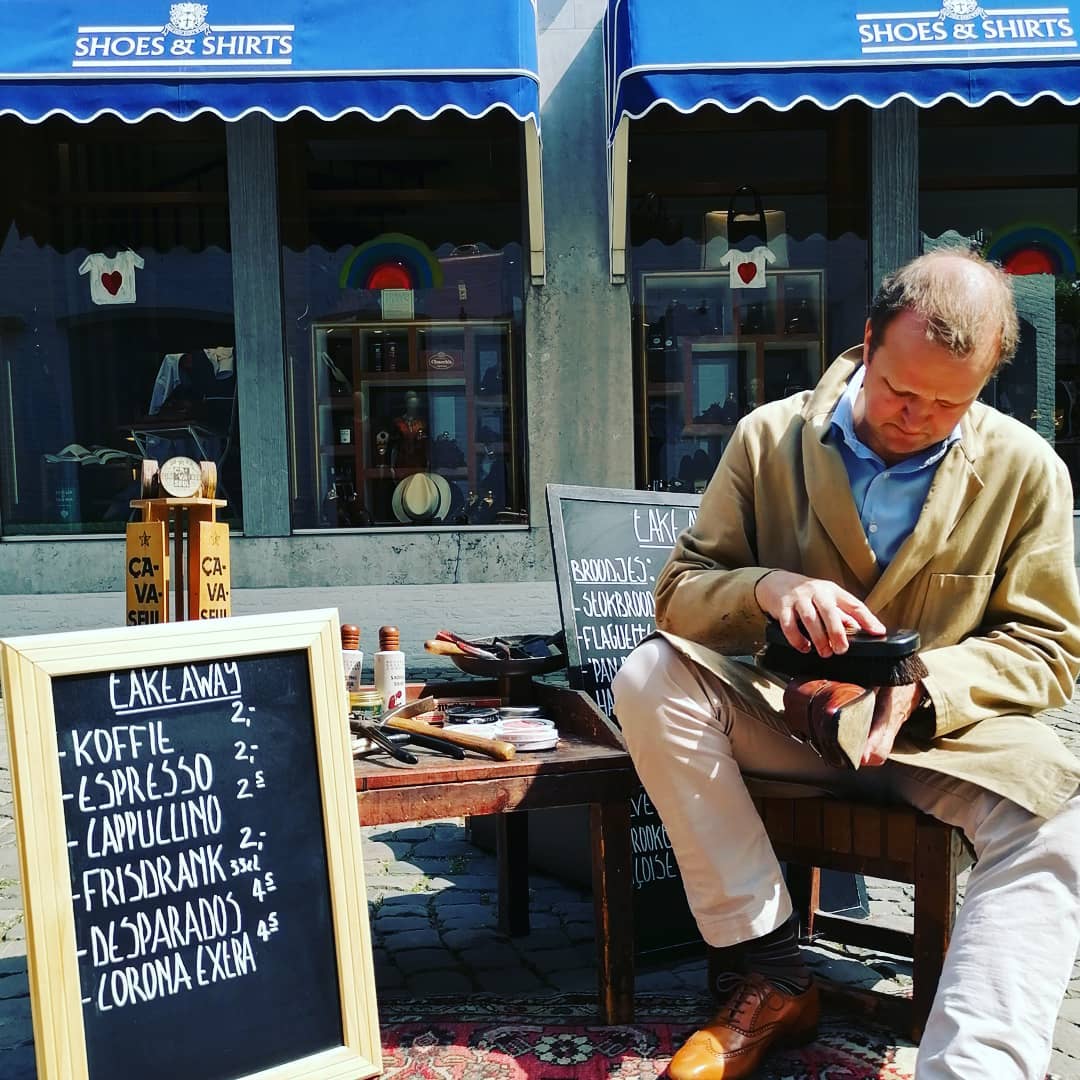 A little shoe care meets self-care, from Shoes & Shirts and their coffee-serving neighbours. Courtesy of @shoesandshirts_official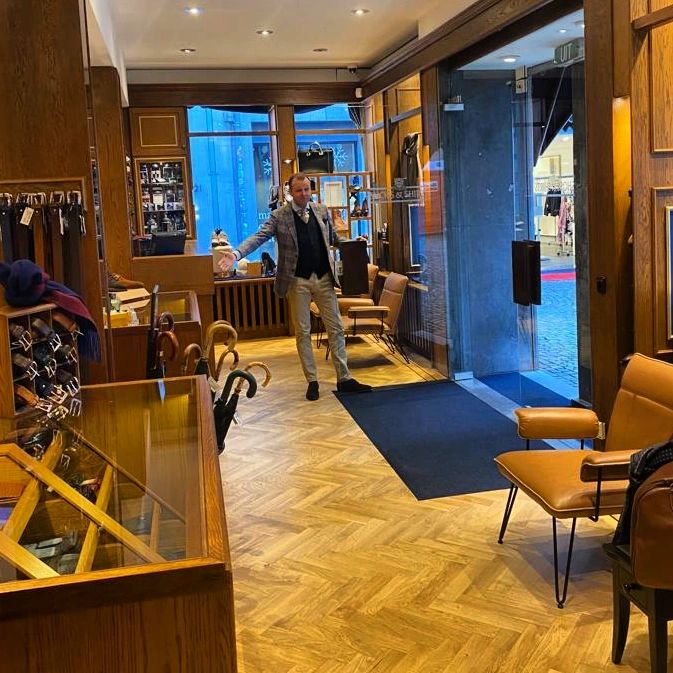 We find that the Bowhill customers from different places in the world vary in their styling. Our Japanese customers might wear Bowhill & Elliott in a different way to our American customers. What is the typical Bowhill customer like for you?
Well, it's a good question that you asked. If you would have asked me 10 years ago, the typical Bowhill customer for us would be a middle-aged, or older man who would wear the shoe at home. They'd have a nice big house, the fireplace – you know the traditional picture that you imagine from a man wearing a velvet slipper. But over the years, we see that even the younger men who appreciate shoes have started wearing the shoes and started to make use of the personalisation opportunities.
So actually right now we see over the last few years that – and maybe COVID helped a little, because people spent more time at their homes – that they have started to appreciate the added value of a house shoe more. Not just the velvet slippers, but also the tweeds or the Grecian suede or deerskin slippers have worked very well over the past few years.
Right now we have added the denim linen to our collection and we've had a nice response from a younger group. But all these people are not sensitive to trends. No – they all believe in authenticity and they have their own style. They can appreciate the Bowhill style but we don't need to explain our customers what the style is; they all have their own style and they know to focus on quality and expertise.
So what's coming up for Shoes & Shirts in 2022?
2022 has a lot of adventures to have, but I think that the main focus is to connect again with the customers – to have the customers in store. Because for two years it has been so strange and it has been so long distance in many ways. When the shops were open, we had to keep a distance of about one and a half metres, so actually the main focus is just to be in contact with our customers again.
We have fun and enjoy seeing our customers and treating them nicely. We serve a little coffee, but also just talk with them about what was going on for them the past three years.  We have a trunk show with Crockett & Jones in June, then of course a Bowhill & Elliott trunk show in September, that we are very much looking forward to. The main reason why we do those trunk shows is to focus on our customers, give them dedicated attention and work with the beautiful products we have.