There is something a little characteristic about the quintessential Bowhill & Elliott ambassador. Something unquantifiable, identified only by their love of fine craftsmanship, their interest in good tailoring and, of course, (we say with a smirk) their exquisite taste. There are some customers, however, whose story is more multi-layered than that, and whose relationship with our brand we are just dying to dissect.
It's with one such character – our esteemed client, Alexander Nicoll – that we're delighted to introduce this new series of posts, 'Friends of Bowhill'. Alexander's story eclipses most, in part because of his year's tenure as Lord Mayor of Westminster, from 2006-2007. Alexander was kind enough to spend the morning chatting with us from his home in Suffolk about all things mayoral, to made-to-order.
Alexander, let's go back a bit. You spent a year as Lord Mayor of Westminster, one of only two civic positions to hold the title, 'Lord Mayor' in Greater London. Tell us a little about that year…
It was a very busy year! I served on Westminster City Council as member for St James's Ward for 16 years. After about 10 years I was eligible to be considered as a nominee for Lord Mayor by the full Council. 
 In May 2006, I took up office. I remember it well; it was a glorious day. I had my family down from Scotland, my wife's family were there and we had many friends there too. It was partly formal because of the legality of taking up the office, but it was also a celebration of the City and all the people and organisations within it. We had representatives from schools and other organisations that made up the City – all civic life was represented. 
In the year, I probably did around 1800 events; some days doing 4 or 5 and they were very diverse. In my first week I attended a concert by a German baroque orchestra at Westminster Abbey and also visited a lady who was celebrating her 100th birthday. In a way it's a reminder that you're not just going as yourself, but as the representative of the Westminster community.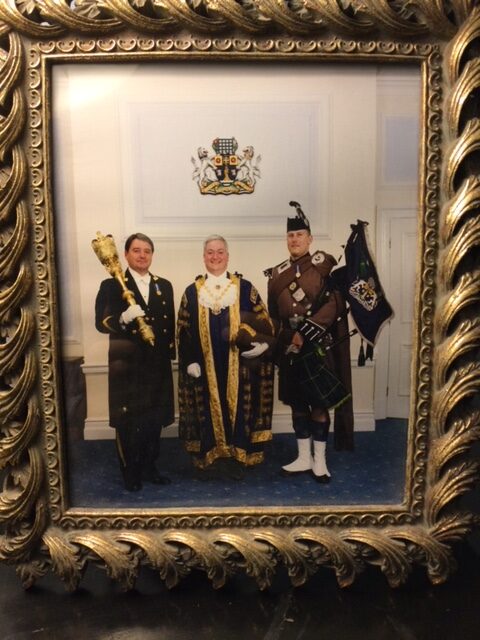 In terms of the ones I commissioned, the Westminster pair are really for special occasions. Before my mother died, one of her hobbies was restoring old furniture, and I've got a chair that she restored, which I enjoy reading in while wearing a pair of my slippers. The Bowhill & Elliott slippers are all in their bags under a table in the same room.

Your custom embroidered Albert slippers show the crest of the City of Westminster, which has the motto, 'Custodi civitatem domine' attributed to it. Roughly translated, it means 'Lord, watch over the city'. Did you feel like that was your duty?

Yes, I felt like it was my job to honour the office, to do it to the best of my ability and to regard myself as the temporary custodian of something that had a long history.  
Occasionally you'd get someone asking what was the point of having a Lord Mayor, and I would always reply that I was not there for myself. As already mentioned, when I attended the lady's 100th birthday, I wasn't there for myself – I was there on behalf of the hundreds of thousands of people living and working in Westminster. 
For one year I had the privilege of being the first citizen of the City and interestingly, the other thing that makes the Lord Mayoralty of Westminster unique is that when I took the oath of office and read the declaration that all my predecessors have read over many years, I was then invited to take a second oath, because during my year as Lord Mayor, I was also appointed Deputy High Steward of Westminster Abbey, as my predecessors had been. It relates to the original relationship between the Westminster community and the Abbey, going back to medieval times, when the Abbey was involved in local civic governance. There is a pew in Westminster Abbey specifically for the Deputy High Steward / Lord Mayor of Westminster. The role of Deputy High Steward is a real position at the Abbey and if the event was an Abbey event, then I wore scarlet robes as a member of the Dean and Chapter. 
Can you share with us some of the more memorable moments of your year, Alexander?
I was one of the last Lord Mayors to hold an annual dinner. Sadly, cost-cutting has impacted on civic life, as in other areas. The dinner was an opportunity for the Lord Mayor to host people who, throughout the year, made significant contributions both in terms of community support and help for the diverse and sometimes vulnerable citizens living in the City.
There were some who viewed the dinner and indeed the Lord Mayoralty as an irrelevance. This always annoyed me as it showed a misunderstanding of what the Lord Mayoralty was about – an office above party politics and there to promote and celebrate all that was best in the Westminster community.
In terms of the dinner, I wanted a venue that had to accommodate over 300 people, that was a) in my Ward and b) connected with a non-political interest of mine. I had close connections with the Royal Opera House and was delighted when they agreed that I could host the dinner in their Floral Hall. You often have entertainment as part of these dinners, so I thought what better, seeing as we're in the Royal Opera House, than to have some performances by some of the young opera students.
There was also another time where my wife and I attended a service at Westminster Abbey that just happened to fall within my year. It was a one-off event to mark the 150th anniversary of the institution of the Victoria Cross, twinned with the 50th anniversary of the institution of the George Cross. In order of precedence, as Lord Mayor, I ranked below the Royal Family but above the Prime Minister. Of course like all these institutions, the pageantry is perfectly run and at this particular event, Tony Blair, who was Prime Minister at the time, was met by the Dean and Chapter and taken to his pew, and then my wife and I arrived, and we were accorded a fanfare from trumpeters of the household cavalry. Of course, as the fanfare rings out, everyone in the congregation stands. It always took my breath away a bit, and at this event in particular. Walking in, we saw living recipients and relatives of deceased holders of the Victoria Cross and George Cross. It was incredibly humbling as some of these people were rising from wheelchairs and many were coping with various disabilities.
Then there were those events that you created for yourself, and to the best of my knowledge, I was the first Lord Mayor to partner with a mental health charity, Mind – Westminster Mind – and the reason that I did that was because my older sister has a long-term mental illness. It's something that my family are aware of and talked openly about, which is still not widespread. Mental health issues need to be discussed more openly, not least as 1 in 4 of us will suffer some form of mental ill health in our lives. I thought I could use my office to try and promote mental health issues during my year. I was very lucky to raise a large sum of money for the charity, for a particular project to help people back into employment after a period of mental ill health. One event which stands out in terms of my charity activity was a reception at the Ritz and donated to me by the hotel. I was honoured that I had managed to invite Princess Alexandra, National Patron of Mind, to attend.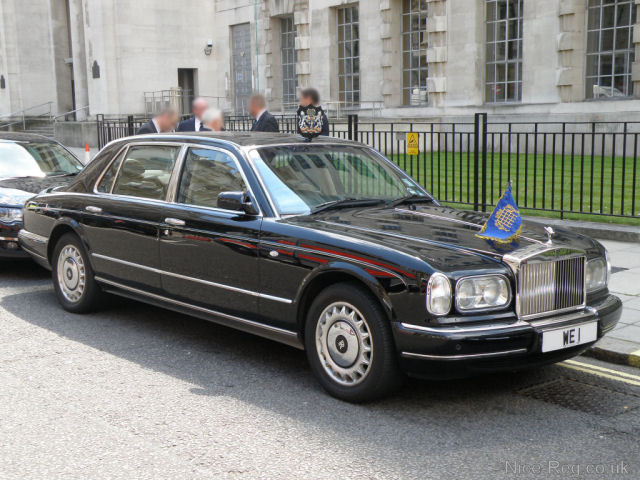 I understand that you also had something to do with the statue of Beau Brummell on Jermyn Street…
Jermyn Street is in my then-Ward. As you know, I have a strong interest in tailoring and related trades and I was aware of Beau Brummell's connection with the West End and St James's in particular. This project also followed on from my involvement in helping to set up the St James's' Conservation Trust. The Trust promoted all that was unique about St James's, including its proliferation of tailors, wine merchants, galleries, specialist perfumiers and, of course, Royalty!
I coined the phrase, 'The Spirit of St James's'. Working with Christopher Fenwick – who had been instrumental in creating the famous statue, 'The Allies', depicting Churchill and Roosevelt, in Bond Street – we thought it would be great to celebrate St James's by commissioning a statue of Beau Brummell to place in Jermyn Street. The Beau Brummell Trust, which we set up, was very entertaining as well as purposeful. This was because amongst my fellow Trustees were the late Richard Briers and the late Sir Donald Sinden! So he and I then gathered a bunch of Trustees to make this thing happen. The sculptor, Irena Sedlecka created a brilliant image of Beau Brummell and the statue proudly stands on Jermyn Street, to this day. I'm proud to say I have a maquette of the statue on my desk by Irena Sedlecka with my name on it!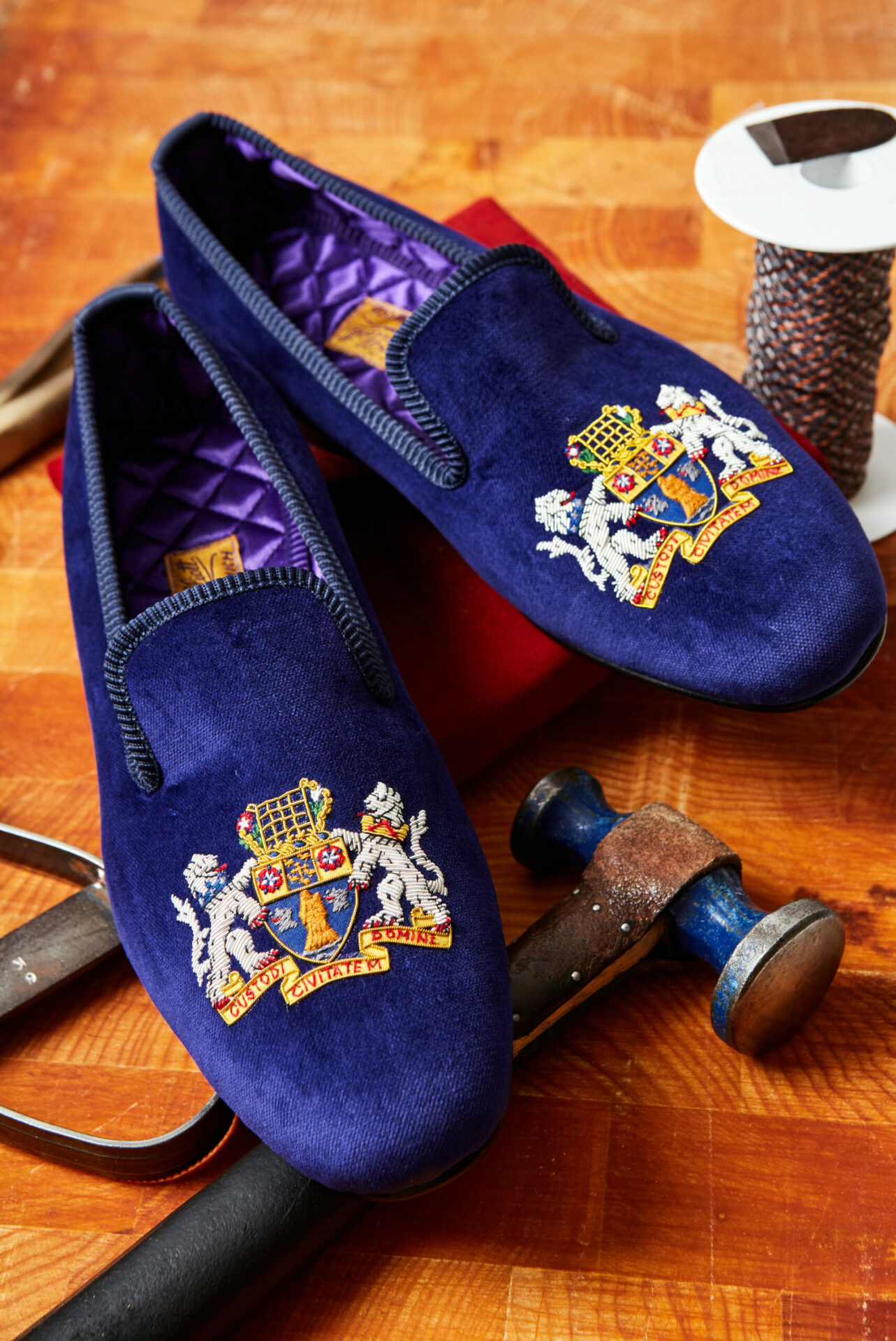 There's so much more we could ask, but of course this year has been unlike any other. Your slippers – and you have four different pairs that you commissioned Bowhill & Elliott to make – have seen more action than we ever thought imaginable as we've been mostly confined to our houses…
I've always enjoyed wearing slippers, all my life, especially growing up in Scotland. If I came in with muddy shoes my mother would ask me to take them off, rather than get mud all over the carpet.
A long time ago, I discovered the benefits of the 'slipper shoe'; the classic velvet loafer with the leather sole, and it was rather fun to find out that a number that I'd bought from different London establishments over the years had actually been made by Bowhill & Elliott.
In terms of the ones I commissioned, the Westminster pair are really for special occasions. Before my mother died, one of her hobbies was restoring old furniture, and I've got a chair that she restored, which I enjoy reading in while wearing a pair of my slippers. The Bowhill & Elliott slippers are all in their bags under a table in the same room.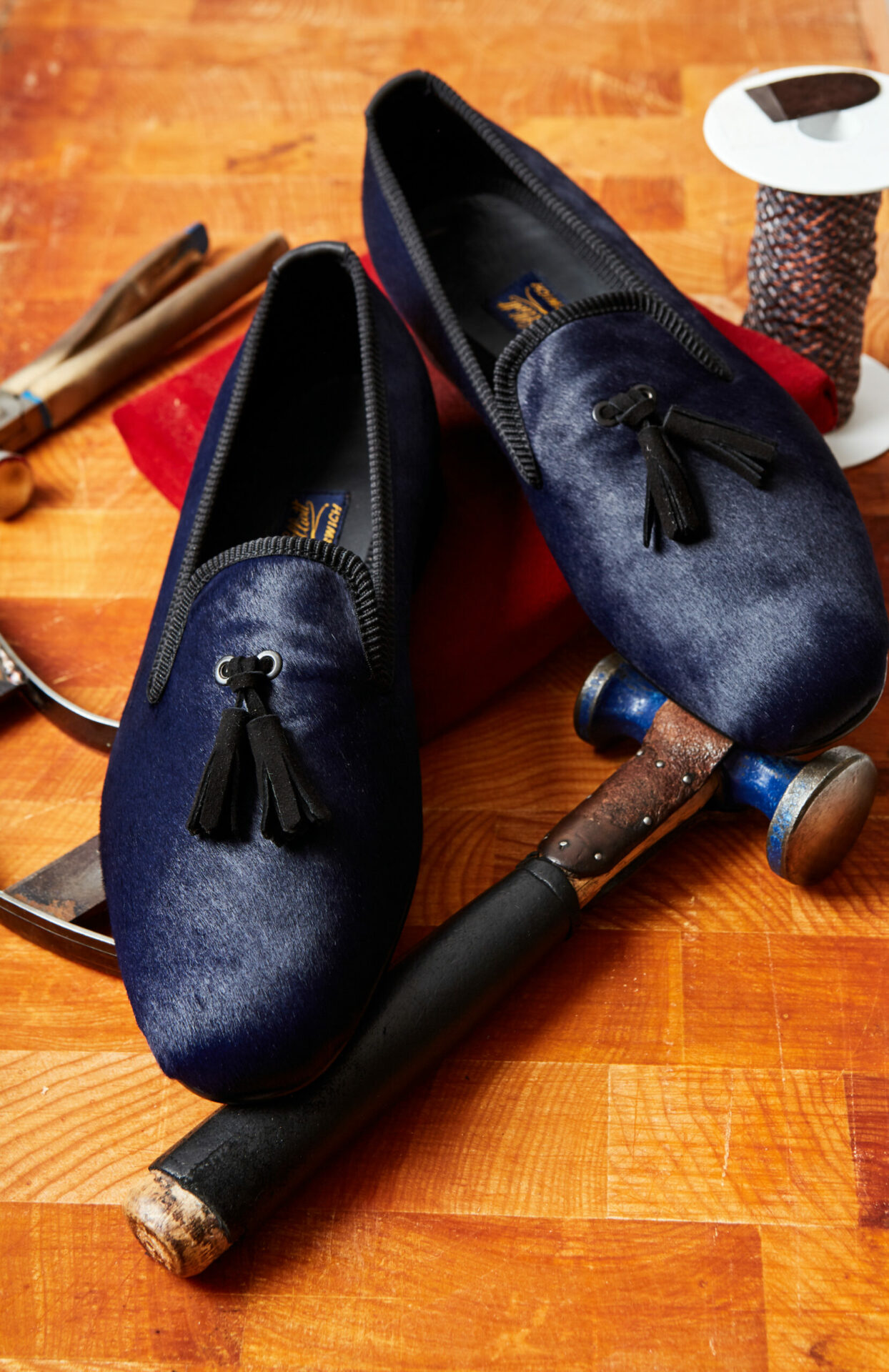 You commissioned a fabulous pair of navy cow hair albert slippers with a tassel. You mentioned the 'slipper shoe' – will these ones be getting an outing?
They will be getting an outing, yes. Provided the road out of lockdown continues, I will be wearing them at a dinner at the Savile Club in early June. This seems very appropriate as they will go well with black tie, and be at home against the backdrop of the literary and artistic Savile Club.
We mentioned the peculiarities of the past year, and how we've spent much more time more informally dressed. How much of these changes will last, do you think?
I think some of these changes will endure. People want to be comfortable and maybe a bit more individual and discriminating about the clothes and shoes they buy. Some may say that ordering slippers or designing jackets is a thing of the past, but I don't think so. I think this is akin to people's increased interest in where their food comes from and how it is made.
Commissioning things to be made is almost the ultimate partnership. The only other relationship I have, which is similar to the one I now have with Bowhill & Elliott, is with Henry Poole. I am currently having a jacket of Somerset lambswool made by Pooles and I enjoy talking to Simon Cundey and the team, who are making the jacket for me.
I do believe we will become more discerning about the provenance of our clothing, as with our food, and the modern term that's gaining traction is 'slow fashion' –
My attitudes towards slow fashion are the same as my attitude towards slow food. Essentially, two things that fascinate me are talking to people who make and create things sustainably – people who can vision things out of natural, or naturally made materials like wool or wood – and creating partnerships with people who can take my vision of what, for example, makes a good slipper, or jacket, and make it a reality. It's not about grabbing something off the peg, but how my own tastes can be brought to bear, talking with people like you and Marc at Bowhill & Elliott. It's allowing you to identify with my tastes and influence them. It's allowing me, as customer, a greater opportunity to connect with the creativity behind the product, with the authenticity of the product, and make sure that it's produced ethically and sustainably.
You and your wife, Grania call Suffolk home now though, don't you?
Part of my wife's family comes from Suffolk and 30 years ago, my mother-in-law bought a small cottage in Aldeburgh, which we loved to visit over the years. In terms of our permanent move to Suffolk, some might say that we were tired of London life, but that was not the case for us. After I stepped down from Westminster City Council in 2010, and given that my wife and I always felt at home in Suffolk, we decided to move there permanently. We both very much enjoy, and have strong continuing connections with London, but in the manner of our separate childhoods – in the East of England for my wife, and Scotland for me – we are relishing the countryside and a slightly slower pace of life than we enjoyed for many years in London. I feel we have the best of both worlds.