As well as our custom velvet slippers, we have a few ever-popular designs, which have served us well - some for over 30 years, like our popular velvet smoking slippers, the Rampant Lion. However, inspired by our own customers, whose ideas and requests are a constant delight to us, we have decided to firm up some of our own favourite ideas with the launch of two collections: the Coastal Collection and the Wildlife Collection.
We have worked on designs that we perceive to be unisex, a view that we are increasingly aligned with. We believe that our albert slippers, venetian slippers and even our pumps can be worn as women's or men's velvet slippers – it's all about the expression of our fine footwear.
The Wildlife Collection
For many years we – and our customers – have borrowed inspiration from the animal world for our designs. It's hard not to, what with so much character and personality. Animals have made up part of signatures and heraldry for millennia, with many hoping to channel the characteristics of the natural world.
We felt now was the time to bring some of our new designs together and launch our new Wildlife Collection.
Dividing the collection between our traditional square-tongued Albert embroidered slippers and the mid-height rounder tongue of the Venetian embroidered slippers, we have travelled across both hemispheres for inspiration, reaching the depths of the southern hemisphere for our new penguin addition, right through the Sahara and into the northern hemisphere. Having been confined to our own domicile over the past year, it's a great way to travel!
As ever, we seek to guide with our specifications, but each of our made-to-order styles has the opportunity for some individualisation, be it change of leather sole to rubber, a different choice of cut or selecting your fit from our P and K lasts. We can't wait to hear how you would wear your pair. This is the closest we believe you can get to bespoke slippers without having a last made to your exact foot.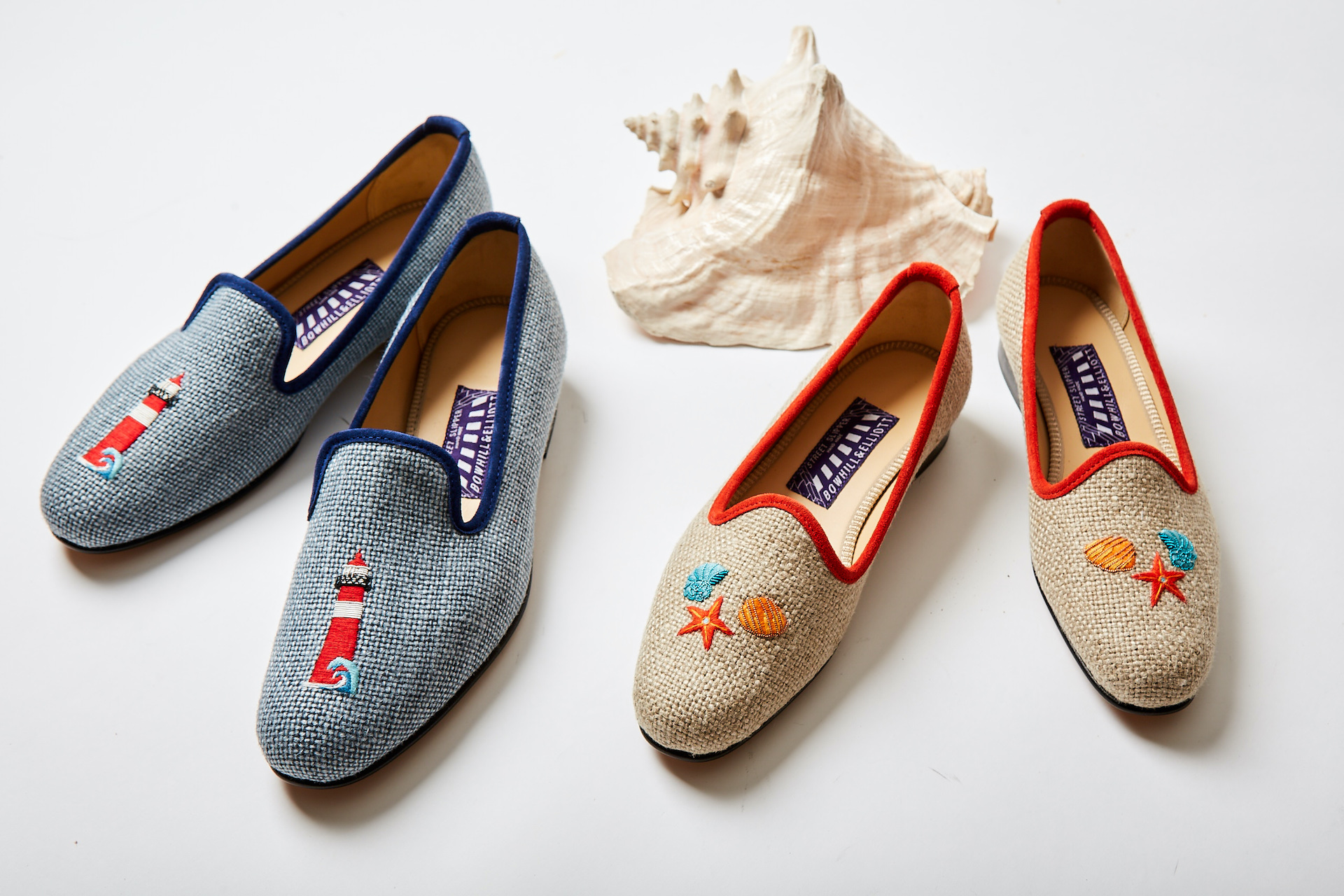 The Coastal Collection
We talk frequently – and proudly – about the city of Norwich, our birthplace and enduring home, once one of the United Kingdom's most prolific shoemaking cities. However, it's 30 or so minutes out of the city that deserves our attention today.
Norwich is nestled in the heart of Norfolk, and take almost any road bar east from the centre and you will soon find yourself at the edge of the country, on Norfolk's famous coastline.
The Norfolk Coast is classified as an Area of Natural Beauty, and who are we to argue? Its beaches have provided sets for numerous films, it counts the Royal Family as sometime residents at their Sandringham Estate, and it has provided generations of families with memories of crabbing, bathing, seal watching and ice creams shared on the sand.
What better inspiration, then, than for the launch of our new range, the Coastal Collection. There are seven new designs available, all hand embroidered on to a single cut of linen, in three different colours. As made-to-order styles, the final decision on colourway and cut can be yours. These new styles are all part of our Street Slipper ® range, which feature a rubber sole for outdoor wear, and a sand leather lining.